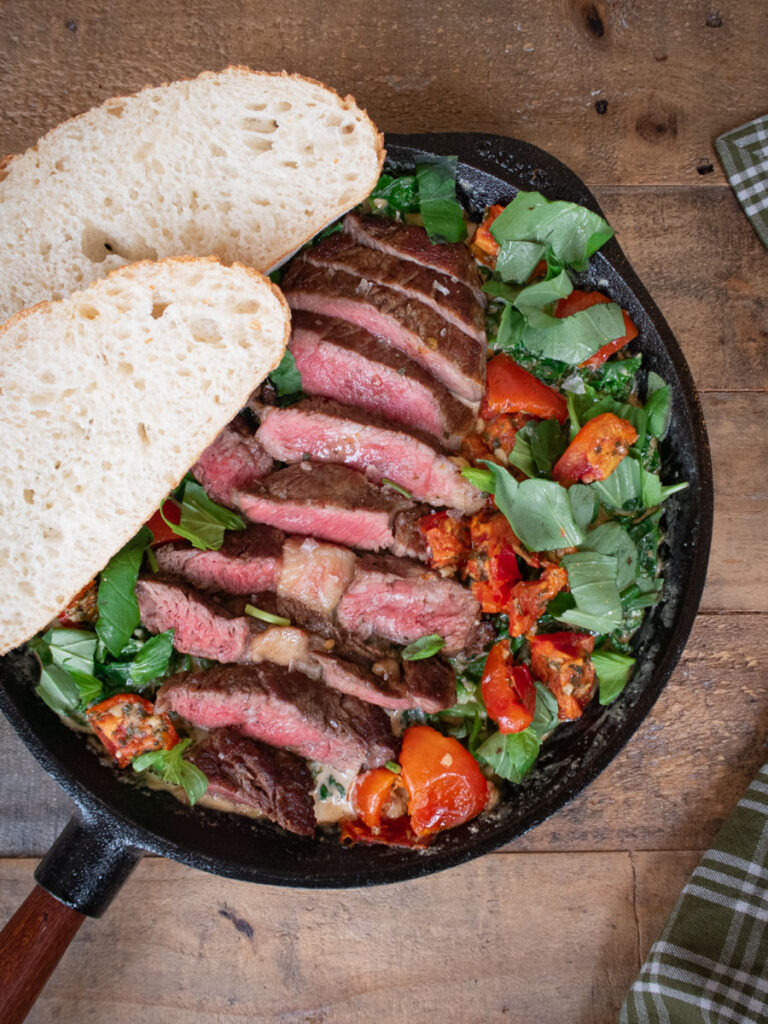 Ingredients
350-400

gram

ribeye steak

300

gram

kale

300

ml

double cream

2

cloves

garlic

150

gram

sun dried tomatoes

10

gram

basil

25

gram

butter
Instructions
Take your steak out of the fridge 30 minutes before you start cooking.

Boil a pot of water with some salt and cook the kale for 2-3 minutes till its just cooked. Drain in a colander and let it steam dry.

Chop the 2 garlic cloves, sun dried tomatoes and the basil.

Season the steak on both sides with peper, salt and a drop of oil. Sear the steak in a hot pan or skillet, reduce the heat and add the butter. Roast the meat golden brown for 1-2 minutes on each side and after put it on a baking tray to rest for 5 minutes.

Add the chopped garlic to the pan, stir and right after add the cream. Reduce the cream slightly, add the kale and season with salt. Mix well.

Finish cooking the meat in the oven on 180°C for 4-6 minutes to a beautiful medium cook. Leave to rest for another 5 minutes before carving.

Now heat up the kale, carve the meat in equal slices and top with the sun dried tomatoes and basil.

Toast a few thick slices of sourdough to go along with the dish.