Super tender Moroccan chicken thighs in a Ras el Hanout tomato sauce. Served with buttery couscous and glazed carrots. A great and easy to follow recipe full of delicious spices. This recipe will take you right back to Marrakesh.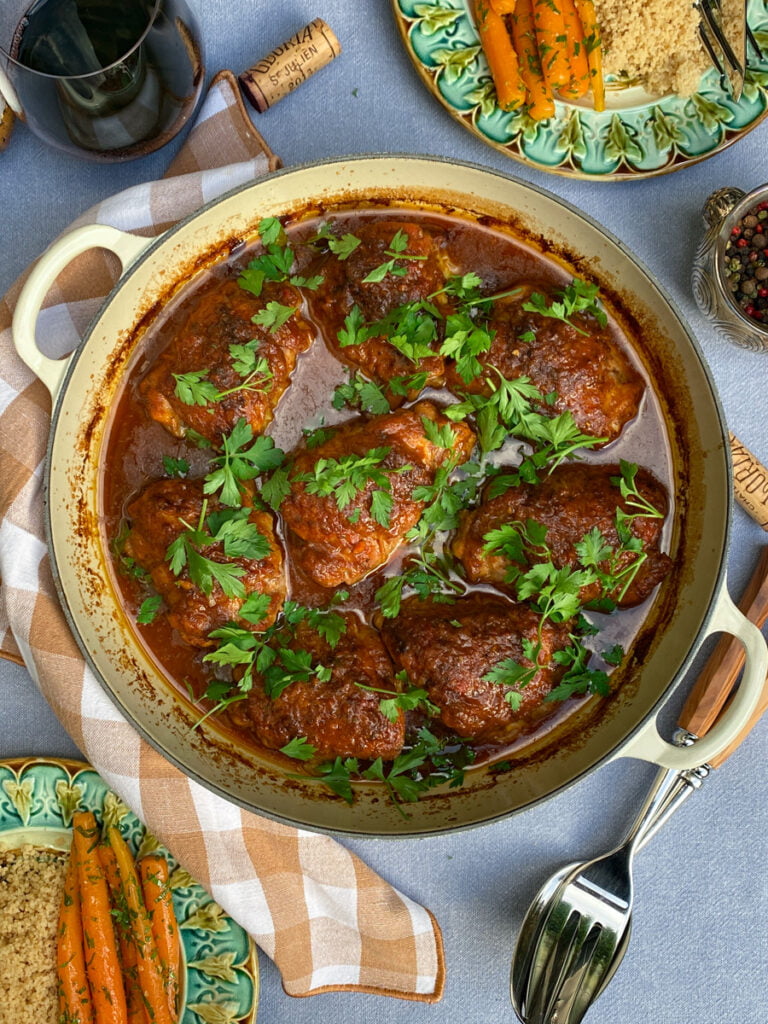 Ingredients
For the thighs
8

chicken thighs

10

gram

Ras el Hanout

30

gram

butter

300

ml

chicken stock

250

ml

tomato passata
For the couscous
150

gram

couscous

15

gram

butter
For the glazed carrots
300

gram

baby carrots

10

gram

parsley

2

cloves

garlic
Instructions
Clean the chicken thighs from excess fat and impurities. Season them with a drop of olive oil, salt, and the Ras el Hanout.

Fry the thighs in the pan on both sides but make sure the skin side is nice and crispy. Lower the heat, remove the excess fat from the pan and add the butter. Roast the thighs on all sides, turn the skin side up and add the chicken stock and tomato passata.

Cook together on the stove for a few minutes then cover with a lid. Cook in the oven at 180°c for 30 minutes. Remove the lid and cook for another 15 minutes so the sauce can reduce. Skim off the fat from the top and leave them to rest.

Peel the carrots and cook them in lightly salted water. Chop the garlic and parsley. Sweat the garlic in a drop of olive oil and add the carrots and parsley. Finish with a sprinkle of salt.

Cook the couscous with some water as per the instructions on the pack and finish with some salt and a knob of butter.

Serve your thighs with the couscous and the carrots.